Funeral Service for Mr. Julian Thompson
Service for Carpentry/Building Trades teacher Mr. Julian Thompson will be on Saturday, December 3, 2016 at 11 a.m. at
Collins Grove
1197 Johnston Station Road
Summit, MS 39666
ACSD Renovation Notice
Over the next nine (9) months, the Amite County Schools will be undergoing building renovation that will result in an improved environment for our Students, Faculty, Staff and Parents. In order to improve our High School, Elementary and Vo-Tech buildings, Amite County School District will be renovating toilets; repainting majority of the interior walls; replacing flooring; replacing HVAC in the High School Auditorium only. We will make our buildings safer by replacing our interior and exterior doors and hardware.
The demolition will take place after 3:00PM and on weekends and holidays, so that the students will continue learning in their classrooms without disturbance. Replacement of new finishes will begin soon after.
We appreciate your patience as we work to improve our school buildings in our district. Substantial Completion is July 15, 2017.
ACES School Supply List Posted
The School Supply List for the Amite County Elementary School has been posted to the left side of the page, under the listing, "ACES School Supply List."
ACSD Presents the SUMMER SUCCESS ACADEMY
The Summer Success Academy will be available from June 6-30, 2016. Please contact Amite County Elementary School at 6016578311 or Amite County High School at 6016578920 if you are interested in your child attending. There will be a summer band camp, field trip the Stennis Space Center, tutoring and credit recovery and more.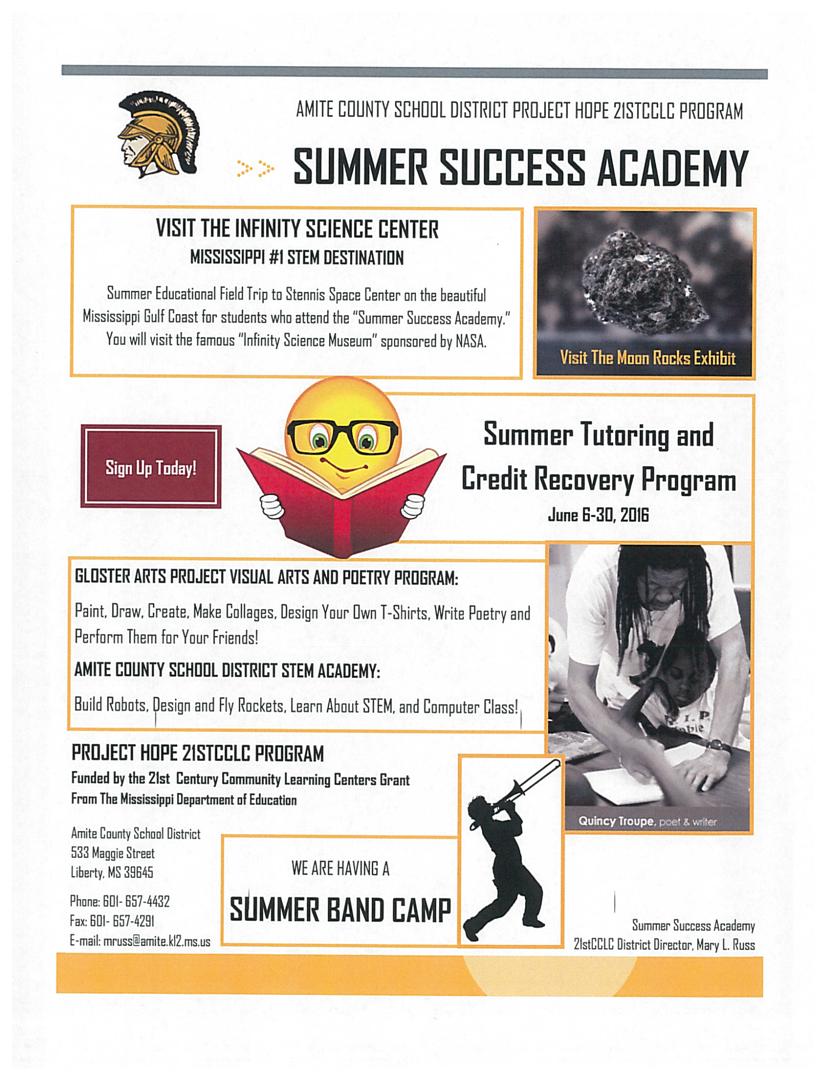 Free Breakfast and Lunch Program for Children This Summer
This summer, ALL children under 18 or under can recieve free lunch and breakfast at the Elementary School from June 6 until June 30.
ACSD Job Openings Listed
The Employment Opportunities Page has been added to the website. It can be found on the left side of the page.
Scholarship Availability
Parents: Numerous scholarships are available at the High School, please encourage your child to complete the scholarship. Parents, you are welcome to stop by and pick up the scholarships as well.
Also, ACHS will host FAFSA days on

Feb 18, 2016

from 10-5 &

March 9, 2016

8-3, please call and schedule your appointment.

Sedric Cain Awarded Area Coach of the Year
Head football coach, Sedric Cain, an ACHS graduate, has been awarded Area Coach of the Year in Football by the Enterprise-Journal. Cain lead the Trojans to a 9-3 overall record and reached the 2A Playoffs in his second year as head coach. Previously, he was part of the coaching staff that led the Amite Co. Jr. High Trojans to 3 straight championship berths winning 2 of the 3.
Technology Page Updated
The Amite Co. School District's Technology page has been updated with more accessible work-order form and resource links for teachers and students.
Amite Co. Elementary After-School Tutoring Start Date
Amite Co. Elementary School's after school tutoring program will resume on January 11, 2016.
Amite Co. Elementary Christmas Band Concert now posted
You can go and check out the the Amite Co. Elementary Band perform ther Christmas Concert from December 17, today at www.amitetrojans.tv.

ACVT JOB OPENING
Robotics Engineering Position available at the Amite County Vo-Tech.
-Must have a degree in Math or Engineering
Please contact Augustus Russ @ 601-657-8081
Lunch Menus and ACHS Basketball Schedule Addition
Lunch menus for both schools and the basketball schedule have been added on the left side menu of the website.
ACSD PTA News
Amite County PTA is sponsoring a Healthy LifeStyle Walk on November 7th from 8'til 12noon at Trojan Football field. This is a friendly competition that will consist of a 2k goal walk. There will be food, games, prizes, entertainment, and health stations set up to give you healthy living tips. There's only a $2 registration fee per walking participant and only a $1 entry fee for spectators ( kids under 6 get in free). You can register as a group or individually. Remember this is all to support healthy living, but most importantly, OUR KIDS. If you or your group completes the walk within your goal time you set when you registered, then you will win a prize. We're looking for Cheerleaders, Football, Track, and Basketball teams, even teachers and families can get in on the act by registering as a discipline group(Math, Science, English, Coaches, Administrators) So make plans now to come out and enjoy to fun. Compliments of ACPTA, "Join the Movement!" Making every child's dream a reality. For more information contact us at
601-657-5666.
ACSD Open House - October 22, 2015
The Amite County School District will have Open House at Amite Co. Elementary School and Amite Co. High School from 3:30 until 5:00 on Thursday, October 22, 2015. Parents are encouraged to come talk with the teachers, pick up their children's report cards, and take a look at all the improvements that have been made at the schools.
ACES Get New P.E. Equipment from Donors Choose

The kindergarten classes at ACES are very excited about the arrival of their new PE equipment! They were fortunate enough to have their donor's choose project funded this month by an anonymous donor and the NEA Foundation. They will be receiving an assortment of balls, hula hoops, jump ropes, and a parachute to use during their daily PE class.
ACHS Defeats West Lincoln 68-12

Kendrick Anderson - 11 Tackles, 1 Sack
Jimmy Anderson - 2 passes defended, 4 tackles
Lantravious Franklin - 130 rushing yds, 2 TD
Quavonte Adams - 5-7 passing, and 124 yds passing, 5 TD
Trevarious Clark - 6 yd rushing TD
Trojans Triumphant on Homecoming 64-6
For the game Lantravius Franklin finished with 77 yards rushing on 5 carries and a touchdown, Keontae Hughes added 53 yards on 5 carries and a touchdown and Darrien Robinson had 1 carry for 60 yards and a touchdown and caught 4 passes for 105 yards and 2 touchdowns. D'Kenyace Roberts caught 2 passes for 55 yards a touchdown and Nailon Patrick caught 2 for 50 yards and a touchdown. Quavonte Adams finished completing 9 of 15 passes for 210 yards and 4 touchdowns and added a 41 yard touchdown reception. Defensively the Trojans were led by Kendrick Anderson, Alleon Thigpen, and Robert Mitchell with 7 tackles each. Jimmy Anderson, Damon Smith, and Marqaviuos Winfield added 6 tackles a piece. Darrien Robinson added his 5th interception of the year after finishing with 11 last year.
Trojans defeat Jefferson County, 14-8
Highlights from the game:
Robert Mitchell led the defense with 11 tackles and 2.5 sacks
Ken Anderson - 6 tackles, 1 sack
Damon Smith - 6 tackles
Alleon Thigpen - 5 tackles
Quavonte Adams - 9-12 passing for 131 yards and 1TD, 3 rushes for 69 yds, 1TD
Darrion Robinson - 8 catches for 144 yds, 1TD
Trevarious Clark - 3-4 passing for 32 yards
Lantravious Franklin - 14 rushes for 43 yards
ACT/SCHOLARSHIP PAGE ADDED
There is a page on added to the website that will provide info for students seeking assistance with the ACT, college scholarships, and admission. It is on the left side of the page under ACT/Scholarships
Trojans win in a close game against Port Gibson
Amite Co. Trojans defeat Port Gibson Blue Wave 16-12 to in a close game to open up the season.
Keontae Hughes led the Trojans to victory with 17 carries for 109 yards and 2 TDs. Darrion Robinson had 9 carries for 117 yards, plus 3 pass deflections and one interception on defense. Nailon Patrick and Lantravious Franklin recorded an interception each as well.
The Trojans take on the rival Wilkinson Co. Wildcats this Friday night, at Trojan Field at 7 p.m.
Trojans Look Impressive in Jamboree
Amite Co. Trojans prevailed versus Bouge Chitto 16-0 and East Marion 12-0 in the jamboree game this past Friday night in Bouge Chitto.
Highlights include:
2TD runs by Lantravious Franklin
2 big gain receptions by Darrion Robinson
Several tackles for loss by Marquise Robinson
The Trojans open the season this Friday at home against the Port Gibson Blue Wave. Game starts at 7:00 pm at Trojan Field.
Amite County Vo-Tech Meet and Greet 2015
The Amite Co. Vo-Tech will host its annual Open House on August 18, 2015, from 2 pm to 6pm.
Please join us for an informal event to prepare parents and students for the 2015-2016 school year. Faculty and staff memebers will be available to discuss the various programs offered at the center.
ACHS Receives Best High School Award by US News
US News & World Report has nationally recognized Amite County High School with the Bronze Award for top high schools in the nation based on recent student performance.
To produce the 2015 Best High School rankings, U.S. News & World Report teamed with North Carolina-based RTI International, a global nonprofit social science research firm.
RTI implemented the U.S. News comprehensive rankings methodology, which is based on these key principles: that a great high school must serve all of its students well, not just those who are college bound, and that it must be able to produce measurable academic outcomes to show it is successfully educating its student body across a range of performance indicators.
Amite County High School was given a bronze rating from the field of 29,070 public high schools reviewed in all 50 states and the District of Columbia.
You can see the full report at the link here.
All Schools Asbestos Free
All schools of the Amite County School District have been deemed clear of asbestos by air monitoring standards.
2015 Football Schedule
The ACHS 2015 Football Schedule is now posted on the left side of our website.

Amite Co. Elementary School Supply List Now Available
The Amite County Elementary School Supply List is now available!! You can find it by looking to the left side of the website and clicking on "District Documents".
ACSD JOB OPENINGS
The Amite County School District is asking for applicants for the following jobs:
Two 4th Grade Teachers

3rd Grade Teacher

Middle School Math Teacher

Health/Driver's Education Teacher

2 Special Education Teachers
Applications can be printed out from our website. Click on District Documents and then Applying for Employment. If you have any questions, please call the District Office @ 601-657-4361.
Looking For Summer Work??
The Amite County School District is looking for Common Laborers
Starting Pay $8.50 per hour
Please contact Glenn Armstrong @ (601) 624-3711 M-F

8 a.m - 3 p.m.
Amite County Alum, Drafted by the Dallas Cowboys
At Minnesota, Wilson was a two-year starter and an extremely productive linebacker for the Gophers defense. In 26 career games, 24 starts, the 22-year-old racked up some gaudy numbers for Minnesota.
Damien Wilson's Career Statistics

| | | | | |
| --- | --- | --- | --- | --- |
| Year | Tackles | Tackles for Loss | Sacks | Interceptions |
| 2013 | 78 | 5.5 | 1 | 0 |
| 2014 | 119 | 10.5 | 4 | 1 |
| Total | 197 | 16 | 5 | 1 |
CFBStats.com
Wilson should be able to develop into a quality starter for the Cowboys down the road, which is a great value in the fourth round.
This year, Wilson will likely back up Sean Lee at the "Will" linebacker position primarily and possibly even Rolando McClain at the "Mike" linebacker position in a pinch. Wilson's real impact will come on special teams, where his athleticism and toughness should allow him to make a huge impact.
New Amite County Athletics Page
You can keep up with all AC Trojan Sports info at achstrojans.com. There are schedule, apparel, and coaches info posted on all our Junior Varsity and Varsity activities.